Poodles tend to be active and intelligent dogs. They have a reputation for being distant. But this is more of a calm distancing from foreigners. They are very loving and loyal to their family members.
A poodle barks as most dogs, depending on the circumstances. If you think your poodle barks inappropriately you can train it to keep your neighborhood or household in peace.
Poodles are athletic dogs that can easily become hyperactive and sometimes they happen to bark for no reason. Although these dogs are often justified in barking, because they bark to alert the owner about strangers or other problems, when the poodle changes from normal barking behavior to excessive barking and aggression against other dogs, this can be a problem. These dogs will lose a fight against bigger dogs and can be annoying when they behave in this way.
You might also like my articles on the top 10 teacup fluffy dog breeds, on how big would cockapoos get, and on how to stop a dog from barking.
Despite the fact that it is an extremely active dog, a well-trained poodle will be happy enough to relax and sleep next to you. For example, they will not run around the house with no purpose and will be relaxed companions as long as they have done enough daily exercise.
A poodle's standard barking
Despite their quiet nature, poodles can be fans of their own voices. They tend to alert you to visitors, which is a feature some families appreciate.
If you are not a barking fan, then make sure you never respond to your dog.
Why is your poodle barking?
Make sure that there is no tension in the house that can cause damage to the poodle's behavior. The poodle is sensitive to stress, tension, anger, and loud noises. Families with children may have a problem due to loud noise and hyperactive behavior of children. Aggressiveness and barking could be a reaction to the stressful environment, in which case the family must provide it a quieter environment.
Find out the reason behind the barking. Most dogs bark for a reason, so it might be that the poodle tries to draw attention to something. Find out why your dog barks and give it a sign, such as a head nod, to let him know it can stop barking.
Give it a command like "quiet", "enough," or "silence" to calm down the barking. Then hold a hand over the top of the snout until the dog stops barking. Immediately after the dog stops barking, give it a treat as a reward or a word of praise. Make sure that when you give the command it is said in a calm, firm voice, and not loud. Loud noises may agitate the poodle even further.
Let the poodle socialize. In most cases, poodles are social creatures, but when they are not used to being around other dogs, this can lead to aggressive and barking behavior. Socialization should be slow, starting with dogs being away from each other and with the owner near them to stop the poodle from barking with a command. Gradually bring the other dog closer to the poodle so it can get used to the smell and stop barking at the sight of the other dog.
Stand by your poodle when you're outside. Poodles are small dogs and can be easy to scare, so they will rapidly start barking. A poodle owner should always be near the dog to stop it from barking immediately if other dogs, animals, or people are walking around.
Training a poodle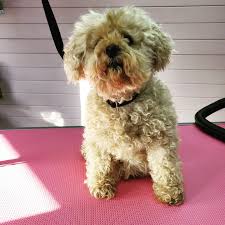 Despite their stereotype of being elegant, a poodle is actually a very intelligent and active dog who works hard.
The poodle training is something both the dog and the owner can really enjoy and benefit from. In fact, these dogs excel in cooperation with their owners and have a high capacity for physical activity.
They also learn many tricks very quickly and they can participate in a wide range of canine hobbies.
Being sensitive dogs, they work most effectively when trained using positive reinforcement methods.
This will keep them happy and motivated throughout the training sessions, as well as increases the strong connection between you two.
Can I train a poodle not to bark?
Any owner can train a poodle as they are very sweet and intelligent, including when to bark or to stop barking. Of course, it is easier to train them while they are puppies, and you should also remember that everything requires patience and work.
You should never shout at them, as they might get stubborn so it will make everything harder. Use a short and firm verbal command as "quiet".
In most cases, the poodle's bark is a sign of anxiety or excitement, and giving it the command will help it feel safer and so be quiet.
Poodles are particularly prone to fear-based aggressiveness, which makes them very dangerous. This breed is extremely loyal to its owners and children. Some dogs may be shy in the presence of strangers, while others may over bark.
Barking is normal for a poodle under these conditions, as it is normal for most dogs under these circumstances. In order to preserve the peace of everyone else in your household and area, you can train your poodle to stop barking, especially if barking is inappropriate.