Just like people have motion sickness, kinetosis, during car trips, dogs and cats can also experience this problem, whether it's road, sea, or air transport. Kinetosis leads to nausea, vomiting, and, from time to time, other signs, such as loss of appetite for a few hours after the event that put the disease in motion. Animals may yawn, cry, show signs of anxiety or worry, or even have diarrhea.
The main cause of kinetosis is due to stimulation of the sensory organ in the inner ear, which has connections to the center of vomiting in the strain of the brain. Fear of the vehicle can be a contributing factor in dogs and cats, and signs may appear even in a vehicle that is not moving. This happens if a dog has been pre-conditioned for the disease associated with a trip in a vehicle.
The disease can be overcome by limiting your pet's travels with the means that cause them to suffer from this condition. In other cases, medication can help prevent illness. These medicines can be obtained from your veterinarian and include sedatives and products to reduce nausea and/or vomiting.
Causes of motion sickness in dogs and cats
There are several potential causes of kinetosis in dogs and cats. Young animals may suffer from this condition more frequently because their balance needs to develop a little more as they mature.
The cause of motion sickness can also be emotional, behavioral, and related to an unpleasant past travel experience.
Symptoms of motion sickness in pets
You might also like my articles about:
Dogs and cats show anxiety in various ways. The first signs of kinetosis may be a constant line of the lips, followed by a state of excessive sedation. The dog cries, yawns, does not move, and even fears movement. In the end, vomiting and regurgitation appear. An extremely affected dog may even urinate or defecate in the car.
Diagnosis of motion sickness in pets
Once neurological and behavioral causes are excluded, the diagnosis of motion sickness can be made easily by your veterinarian. The history of your dog or cat's reaction to car travel usually indicates the problem.
Treatment of motion sickness in dogs and cats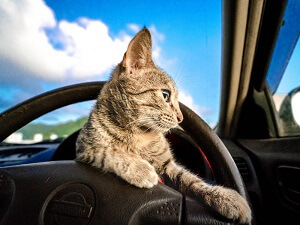 The treatment of this condition can be simple. In principle, you will need to familiarize your dog or cat with car rides. If in time, accommodating them does not help ameliorate the situation, various medications are available.
Antihistamines, for example diphenhydramine, have a sedative action to gently calm the pet during travel, as well as to reduce nausea. Other drugs that may be useful include meclizine and dimenhydrinate. These drugs do not cause sedation, but they can reduce nausea and vomiting.
Ginger is a well-known holistic treatment that can be used for nausea. It can be found in the form of pills, or even in the form of snacks. It is believed that ginger-based gum and pills calm the nervous stomach when taken about 30 minutes to an hour before the trip.
Consult with your veterinarian before giving your pet ginger in any form, to make sure there are no indications that can do them harm. In severe cases, stronger sedative medication, such as acepromazine, may be prescribed by your current veterinarian.
A veterinarian should be consulted before offering any medicine just to make sure that your pet is healthy, and receives the correct dose and medication so it won't harm him more.
Prognostic in the treatment of motion sickness in cats and dogs
Providing a safe and comfortable environment for your pet can lead to a better overall attitude toward travel. Slightly opening the windows in the car can help reduce air pressure inside the vehicle and allow better ventilation. You shouldn't feed them for a few hours before getting into the car. Toys can help them because they distract them. Stopping for frequent breaks can also be useful.
Prevention of motion sickness in pets
Time and training can help a lot in preventing kinetosis. You may need to supply certain medications to help calm your dog or cat if it tends to become extremely nervous before going into the car. Your veterinarian may suggest safe and effective anxiety medications to make sure your pet's trip is going perfectly every time.
If your dog or feline companion suffers from motion sickness, it is ideal to do short tests before planning a long car trip so you know what to expect and what measures to take. Restrict food before a car ride. A full stomach can worsen the symptoms of kinetosis and your pet will vomit. So, a change in feeding schedule might be wise before a car ride.
Kinethosis is often worse when animals sit in the back seat of the car looking out the back window, so it is recommended to place them in the front seat.