Canaan is a dog breed that has survived for thousands of years in the desert region of Israel. These dogs were an elementary part of the old communities in the Middle East, where they were used to lead and guard sheep herds, which were the wealth of a man. Known as Kelef Kanani, Hebrew words meaning Canaan dog, those primitive dogs survived for thousands of years in the modern era and still retain the traits that allowed them to live in harsh desert conditions.
Today's Canaan dog has the same smooth fur, sharp ears, and bushy tail as its ancestors, and undoubtedly the same alert, attentive, curious nature, which made him a very appreciated pastor dog. This agile dog can change directions swiftly and move at the trap quickly, covering the ground faster than you can imagine. Besides its beautiful appearance and graceful movement, the Canaan dog is blessed with a pleasant and receptive personality.
Although his heritage of survival in the desert gives him some degree of independence, a properly trained Canaan dog loves his family and can adapt to many life situations. Living in an apartment with a few short daily walks is just as pleasant for him as living in a house with a yard and noisy children.
While this breed is active, its energy level is not excessive. The Canaan dog's territorial nature makes it unlikely to venture far from home, although, like any dog, it should be protected from traffic and other dangers when in a public space.
This is a versatile breed. The Canaan dog is intelligent and quick to learn, ready and willing to engage in almost any activity specific to dogs, from chasing and pastoring, to listening and agility.
This is a dog that requires a firm but loving owner, as well as early training, to counteract aggressive tendencies toward other dogs. This intelligent dog responds best to motivational techniques such as praise, food rewards, and play. They are easily bored with repetitive workouts and require a challenging and creative learning environment.
The Canaan dog has an excellent survival trait: It reacts quickly when confronted with something new. Caution or suspicion in new situations can save a dog's life and are among the reasons the breed has survived to this day. There are also excellent, vocal guard dogs, so be prepared to hear him barking. Canaan dogs are extremely alert and will notice something new or any new person on their property. They will bark to warn you of someone's presence, but they will keep their distance from them. This causes some people to consider them shy, but it is their way of responding to new or potentially dangerous situations.
Canaan dogs get along well with children, considering them part of their "pack" and treating them gently. They also do well with other small household pets, if they are raised from an early age, including cats.
Historical data about the Canaan breed
In the Bible, the Book of Exodus calls Canaan – ancient Palestine and Phoenicia from 3.000 BC. – a good and spacious country, flooded with milk and honey. Sheep and goat herds have thrived there, and where there are herds, there are dogs. The dogs of these ancient communities in the Middle East were known as Kelef Kanani, Hebrew words meaning Canaan dog. It is likely that Kelef Kanani differs slightly from its modern descendant, the Canaan dog. Drawings of tombs at Beni Hassan in Egypt, dating from 2200-2000 BC, show dogs with smooth fur, sharp ears, and a bushy tail that curls on the back. Undoubtedly, they had the same alert, attentive, curious expression that marks today's Canaan dog, a breed that can be a living portrait of early domestic dogs.
The dogs of the past Middle East retained their reputation as defenders when thieves appeared, and announced when danger was near. But over the centuries, with the invasion of the Roman conquerors and the dispersal of the country's inhabitants to the far corners of the continent, the Canaan dog became "unemployed". He retired to the hilly desert of southern Israel, living a wild lifestyle, in which he depended only on intelligence and physical form. Sometimes he continued his nomadic life, living with the inhabitants of the Bedouin desert, or serving as a guard for the Druze. These were religious communities that made their home on Mount Carmel and other areas of what are now Syria, Lebanon, Jordan, and Israel. Sculpted by this harsh lifestyle, the dog has become a sly athlete, perfectly suited to his environment.
You might also like my articles on other dog breeds like the Exotic Bully, McNab, or Redtick Coonhound.
For centuries, the Canaan dog continued its unrestrained life in the desert, but in 1935, world events brought it back to the human community. Not only was World War II in preparation, but an independent Jewish state was in full development. Isolated Jewish settlements in Palestine needed guard dogs that could withstand desert conditions, and the armed forces in the area were looking for a guard and patrol dog resistant to that environment. Rudolphina Menzel, professor of animal and comparative psychology at Tel Aviv University, was asked to develop a dog that would meet these needs. Her original plan was to work with established breeds, but in her mind, she kept imagining the Canaan dogs she had seen in the desert.
They had survival skills and that was what they needed. Dr. Menzel and her husband acquired some dogs from the desert and began to reproduce, record, and refine their lineage. They trained the new breed for sentinel work, detecting landmines, delivering messages, and were active with Middle Eastern forces during World War II. After the war, some dogs began a second career as "guide animals". By 1948, the Palestinian Kennel Club had registered 150 individuals.
In 1965, Ursula Berkowitz from Oxnard, California, imported four Canaan dogs. The Canaan dog of America Club was formed in the same year. The United Kennel Club recognized the breed in 1992 and the American Kennel Club in 1997. The breed came into the center of national attention in 1998 when CH. Catalina Felix to the Max became the first Canaan dog to compete at the Westminster Kennel Club show. It is still a rare breed, ranking 150 among the 155 breeds and varieties registered by the AKC.
The personality of the Canaan breed
Canaan is described as a dog that is alert, vigilant, devoted, and docile with his family. It is distant from strangers. Its territoriality, which starts at about 2 years old, makes Canaan a good guard dog. It is sure to bark whenever someone comes to the door, sitting calmly again after it is sure you have the situation under control. That's assuming he considers you the leader of the pack. If not, he may try to run things alone and make his own decisions about who is welcomed and who is not. You must be willing and able to be a strong leader when living with a Canaan.
The breed requires extensive socialization, and exposure to many different people, places, sights, sounds, and experiences, and not just for a few months when it's a cub, but for a few years, if not all of its life. A dog that has been exposed to a variety of people and situations while being a puppy will be less stressed and less likely to overreact when faced with something new when he becomes an adult.
Some Canaan dogs go through a period of fear starting at 9 months of age, which can last up to a year. They can be particularly restless around strangers and bark at seemingly harmless objects. During this time, be calm and confident, showing him that he has nothing to fear.
Behavior toward children
Canaan dogs are gentle with children, devotees, and protectors. However, it is important to always teach children how to approach and touch dogs. Always watch for any interaction between dogs and young children to prevent any incident from both sides. Of course, don't forget to explain to your children that it's not good to approach a dog while eating or sleeping or try to take away the dog's food. No dog, no matter how loving, should be left unattended with a child.
Behavior toward other animals
Canaan dogs can get along with other dogs if they are raised with them and socialize, but they tend to play rough with them, a process that involves a lot of barking. For people who do not know the breed, these dogs may appear aggressive toward other dogs. They can be, but it's important to be able to tell the difference between tough play and real aggression. Study dog body language so you can know when to intervene and when to relax and let them play. That said, adult Canaan dogs are not the best candidates to play in dog parks without a leash. They may try to intimidate or interfere with other dogs' play. They can also be aggressive toward same-gender dogs.
The Canaan does best with cats when they are raised together and when the cat is wise enough to stand in front of the dog instead of running away from it. The run activates Canaan's hunting instinct and he will chase the cat. The instinct of chasing prey of this breed can lead to the pursuit and injuring of small animals, especially those it finds outdoors. They're probably not a good choice for families with pets like rabbits or hamsters.
The training of the Canaan
Wonderfully sensitive, affectionate, and receptive, Canaan dogs make devoted family companions. They are extremely intelligent and easy to train. Although dogs are adaptable to most climates and life situations, their natural desire for self-preservation and a well-developed sense of territory makes them distrust strangers, other dogs, or when in a new environment.
Early socialization and training courses for puppies are a must. This is a process that should start when it's a puppy and continue even when an adult. Training sessions should always be positive. Harsh training methods will have a negative effect on the sensitive nature of Canaan. Keep in mind that they get easily bored.
Adaptability and sensitivities of the Canaan breed
A Canaan's dense fur allows him to spend his time outdoors no matter what the weather, but when his owners are at home, he should also be with them.
The Canaan likes to dig and can do quite large excavations in a short period of time if left to their will. Give them a digging area they can call their own garden or redirect their digging tendency through other activities.
Canaan is not greedy for the owner's attention. He is able to take care of himself, depending on his needs. This does not mean, of course, that he should be left in the yard all the time, without human interaction. Like any dog, Canaan dogs are social animals that enjoy being with their humans.
They are wonderful companions and protectors of their family and property. They can even adapt to life in an apartment, as long as they get the movement they need.
The need for movement
This breed requires a moderate amount of exercise and can adapt well to various life situations when given daily walks. Training for dog sports is an ideal opportunity to consume its energy. This breed exercises its mind and body by participating in obedience, pursuit, pastoral care, agility, skill tests, and other activities that the dog and owner can enjoy together.
Health and genetic predispositions
The Canaan dog, which has an average lifespan of 12 to 15 years, does not normally suffer from major or minor health problems. However, a veterinarian may recommend examinations for the evaluation of the hip, elbow, thyroid, kneecap, and ophthalmological health.
Grooming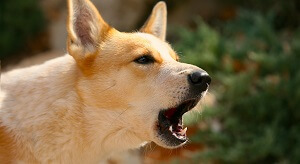 Canaan dogs have a double coat that isolates them from the extreme temperatures of the desert. The outer layer is straight and hard to touch, flat on the body with a slight collar on the neck. The substrate is short and soft. The thickness of the substrate varies depending on the climate in which the dog lives. The bushy tail narrows to a sharp tip. This dog can be predominantly white, and sometimes large patches of color ranging from black to all shades of brown can be seen.
These dogs shed more abundantly twice a year and it is necessary to brush them at least weekly to keep their fur neat.
The Canaan is a relatively clean dog, with no bad dog odor, and does not require frequent baths.
Brush its teeth at least two or three times a week to eliminate the tartar and bacteria. Daily brushing is even better if you want to prevent gum disease and bad breath.
Trim its nails regularly, because when you hear them clicking on the floor, they are too long. Short, neat nails keep your dog's feet in good condition and keep you away from scratches when he jumps enthusiastically to greet you.
Check for sores, rashes, or signs of infection, such as redness, tenderness, or inflammation on the skin, nose, mouth, eyes, and legs. The eyes should be clear, without redness or tears. A careful weekly exam will help you identify potential health problems early.
Food of the Canaan breed
Recommended daily amount: 2-2,5 cups of high-quality dry food per day, divided into two meals.
The Canaan dog should do well with special high-quality food, whether commercially manufactured or prepared at home, with the supervision and approval of the veterinarian. Any diet should be appropriate according to the age of the dog, puppy, adult, or senior. Some dogs are prone to being overweight, so keep an eye on your dog's calorie intake and weight levels. Treats can be an important aid in training, but giving them too many can cause obesity. Watch out for what human foods are safe for dogs and which are not. Consult your veterinarian if you have any concerns about your dog's weight or diet. Fresh and clean water should be available at all times.