It could turn out to be pretty tricky to figure out the best diet for your pet tortoise. It is perfectly OK to struggle to plan the diet of your pet tortoise, especially if you just brought it home. As with any new pet, you will probably have a lot of questions about what they should and shouldn't eat.
For example, how well would the tortoise digest green vegetables? As you probably know already, green vegetables are a great addition to the diet of most pets, including tortoises. But can they eat any types of green vegetables and are all of them beneficial to the same degree? Would they actually enjoy eating celery?
So, can tortoises eat celery?
Yes, tortoises can in fact eat celery. Occasional consumption won't harm them in any way, but a regular intake might come with a few side effects. For example, due to its low carbohydrate content and the high amount of sodium, celery should not be added as a daily diet option.
This vegetable also contains oxalates in high concentrations and the seeds also have diuretic properties.
So remember: Celery as a part of a tortoise's diet won't be harmful and can be consumed in small amounts with no issues. Even so, some tortoises might avoid eating it especially because it has a strong taste that they don't like all that much.
How would celery affect tortoises?
As I already said, some contents found inside celery can be bad for a tortoise's health. Below you will find a table with all of the nutritional contents of celery. Here is a chart that contains the nutritional information of celery:
| | |
| --- | --- |
| Nutrients | Amount |
| Iron | 2% DV |
| Calcium | 4% DV |
| Vitamin C | 15% DV |
| Vitamin A | 10% DV |
| Protein | 0g |
| Sugars | 2g |
| Dietary fibers | 2g |
| Carbohydrate | 4g |
| Potassium | 260mg |
| Sodium | 115mg |
| Total fat | 0g |
| Calories | 15 |
Nutritional values won't tell you too much why tortoises might not like to eat celery excessively, so let's take a deeper look at the celery contents.
Oxalates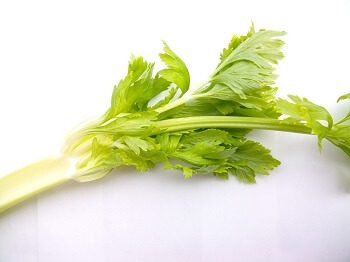 You will find high quantities of oxalates inside celery leaves. When ingested by tortoises, these oxalates will bind to calcium in their intestines. This will lead, in time, to their calcium levels decreasing under normal levels. Calcium deficiency will soon set in, which can lead in the end to Metabolic Bone Disease (MBD).
This is a medical condition that makes the tortoise consume calcium from its bones, mainly its shell, to keep its metabolic functions in order. A lack of enough UVB light can also open the door to MBD and in combination with calcium deficiency, it might speed up the process.
Seeing how pet tortoises are dependent on their owners for UV light exposure and diet planning, they will usually be more prone to developing MBD than their wild relatives.
Celery seeds and their diuretic properties
The seeds of celery plants are well known for their diuretic properties. This means that they can increase urine production. A side effect of these seeds is that they lead to considerable loss of water for the tortoise, which leads to almost certain dehydration.
You might also want to know if deer can swim, if koalas are dangerous, and if ferrets are good for children.
As you might expect, pet tortoises are more commonly affected by dehydration issues. This can lead the way to even more problems, like chemical imbalances in their bodies, digestive issues, or a weaker shell. In some extreme cases, extensive dehydration can end the life of your pet tortoise.
Low carbohydrate amounts
A tortoise gets most of its energy from carbohydrates. Its regular diet, although dependent on about 35% protein and 25% fats, will also need over 55% pf carbohydrates to keep the pet healthy.
Due to its very low amounts of carbohydrates, celery is far from fulfilling the considerable demand of it in the nutrition of the tortoise.
High sodium amounts
Due to the fact that most tortoises will spend most of their lives in water, they will need high amounts of sodium. This isn't the case of pet tortoises, which will usually be kept on land more than in actual bodies of water.
If they are fed with high amounts of sodium, they will get thirsty more often than they should. This will eventually lead to dehydration.
When consumed regularly, celery can cause problems to your pet tortoise, especially due to its rich sodium content.
Calcium/phosphorous ratio
The ratio between calcium and phosphorous in celery is 1.71. Experts see this ratio as very bad for tortoises, especially considering the high amount of calcium they need in their diets. This isn't a rule, as different species of tortoise react differently to this ratio.
Most tortoises will eat whatever you give them without issues. They are considered some of the most flexible pets you can own.
They will also enjoy a varied diet. This is because in the wild they will eat over 200 different vegetables and plants each and every year.
They will eat celery in a heartbeat because it is a green vegetable and they like them. They will enjoy munching on leafy, green vegetables.
How often can you feed a tortoise celery?
The good news is that celery won't be of fatal harm to tortoises unless you add it as a regular part of their diet for a longer period of time. This means that you have nothing to worry about if you only feed your tortoise with celery from time to time.
To limit their intake of this vegetable, you should also try to feed them celery in smaller servings.
Celery for different species of tortoise
Although their dietary needs are somewhat the same, different species will have different needs you should know about. This means that you should keep your pet's species and needs in mind when figuring out its diet and especially when feeding it celery.
Russian tortoise
The Russian tortoise is native to Central Asia and is also known as the Afghan tortoise. They are considered herbivores, and they like eating dark and leafy plants and vegetables.
The Russian tortoise will find Celery a very nutritious vegetable. Even so, this plant's considerable amounts of oxalates will make it a bad pick for regular consumption. You shouldn't feed them celery more than once every two weeks.
Red-footed tortoise
The Red-footed tortoise enjoys an omnivorous diet. It is average in size and can be found in South America. They aren't shy about eating all kinds of things, like invertebrates, fungi, and of course, grass and a few types of fruits.
They will need a diet that offers them high amounts of calcium because they have more bones than most other species. This means that they will be able to eat considerably more celery than all of the other types of a tortoise without risking their health.
The Sulcata tortoise
The Sulcata tortoise is known as the African Spurred tortoise and is considered the largest turtle species on the planet. They are 100% herbivores and you can find them in the southern region of the Sahara desert.
The Sulcata will eat plants that are rich in fiber but low in proteins and will usually be seen grazing grass. Due to its dietary needs, a vegetable rich in oxalic acid like celery will really damage this tortoise's health with time. You shouldn't feed this species celery more than once every week.

Plants that are toxic to tortoises
As with most animals, there are some plants that can really damage the tortoise's health. Always avoid feeding it any of these plants:
Rhododendrons
Sweet peas
Buttercup
Ivy
Honeysuckle
Mistletoe
Lilies
Nettle
What should you never feed your tortoise?
The list below comprises all of the products you should never give to your torroise:
Yogurt
Spinach
Onion
Eggplant
Chives
Garlic
Pasta
Bread
What can you feed your tortoise from time to time?
There are a bunch of food items, aside from celery, that can damage your pet tortoise health if you add them to its diet too frequently. The list below comprises products that you can feed your tortoise but not too often.
Blueberries
Grapes
Blackberries
Apples
Cilantro
Grapes
Red cabbage
Peaches
Cantaloupe
Wheatgrass
Watermelon
Strawberries
Prunes
Radish
Pineapple
Kelp
Why is it the diet plan important for your tortoise?
The dietary needs and functions of a tortoise are somewhat different than in the case of other animals. A great example is that if a dog eats cheese, it will have some stomach issues, maybe some Diarrhea and that's all. For a tortoise it can get a lot worse.
The worst part is that the tortoise will look perfectly healthy to you even when you keep it on an unhealthy diet. Although it could take a few years, in time the symptoms of bad health will start to get more noticeable. When the symptoms are obvious it might be too late to save its health.
This is one of the main reasons why planning its diet carefully and keeping an eye on everything it eats would be the best way of making sure it stays healthy.
Conclusion
To wrap everything up, let's return to our initial question. Can tortoises eat celery? Yes, they can. Celery is a leafy green vegetable, very low in protein, that can be a part of a tortoise's diet.
You should try to remember that this plant has high amounts of oxalate and sodium, which can really damage your tortoise's health in time. Celery will also be unable to fulfill any of the tortoise's needs due to its low-carbohydrate levels.
This means that you can feed your pet tortoise some celery, just remember to avoid feeding it this vegetable on a daily basis.