Bell pepper, sometimes called sweet pepper, has long been known as a healthy, nutritious food for humans. It is low in calories and rich in vitamins and minerals, making it a good food product that you can incorporate into your cooked food and salads.
But is it good for our canine companions? Are the same health benefits seen in humans also valid in dogs? What about other types of peppers?
Are bell peppers safe for my dog?
As it turns out, yes, bell pepper is a safe food that can be nutritious for your dog. However, when it comes to other peppers, safety stops there. This variety is, by far, the least spicy.
Other peppers, such as jalapeños, serrano, etc., can be incredibly spicy. The variation in the spiciness is because all peppers, although belonging to the same genus, namely Capsicum, have different amounts of capsaicin. Capsaicin is an organic compound and an active component of chili pepper.
This compound is irritating to all mammals and can cause a burning sensation on any tissue it comes into contact with, including the skin, eyes, and lips. The more capsaicin there is in a pepper, the spicier it is and the burning sensation is stronger.
Bell peppers have a rather insignificant level of capsaicin in them. As such, they are among the mildest peppers in the genus Capsicum. This makes this pepper ideal for your dog.
Caution!
Peppers that contain higher concentrations of capsaicin are not as safe and can lead to stomach problems if consumed in high concentrations can cause burns, mouth irritation, gastrointestinal problems, vomiting, diarrhea, and other side effects.
What are the health benefits of bell peppers in dogs?
Bell peppers are rich in vitamin A, vitamin E, vitamin B6, vitamin C, vitamin K, carotenoids such as lutein, capsanthin, and beta-carotene, flavonoids such as quercetin and luteolin, as well as other compounds such as potassium or folic acid.
Vitamin A, lutein, and carotenoids are good for eye health, and vitamin C helps support a healthy immune system, however, dogs, unlike humans, can make their own vitamin C, so supplementation is not necessary.
You might also like my articles on whether dogs can eat tomatoes, potatoes, or quinoa.
Vitamin E helps your dog's skin and coat health. Vitamin B6 helps to support a healthy nervous system. There are also some studies that have found a link between beta-carotene and arthritis, meaning it could be a potential supplement for older dogs. Beta carotene is best known as a benefit of pumpkin, but bell pepper is another excellent source. The nutrient can reduce the risk of cataracts and prevent different types of cancer. All of this is found in a single bell pepper.
The commercially available balanced dog food already contains the right level of vitamins and minerals. So, if you feed your dog small amounts of bell pepper during a balanced diet it is safe, but you won't provide it with additional health benefits.
If you're cooking at home for your dog, bell peppers can be nutritionally beneficial, but you should consult with a veterinarian to make sure your pet's nutrition is balanced and the food is tasty.
In terms of raw nutrition, 100 grams of peppers contain about 30 calories, 1 gram of protein, 6 grams of carbohydrates, and about 1/2 gram of fat. This nutritional profile is typical of raw vegetables, but ball peppers have a fairly high proportion of protein compared to other vegetables.
What are the best types of bell peppers?
Anyone who has ever bought these vegetables from a grocery store will know that fatty peppers can have different colors. So, does what color of pepper you choose really matter? Red peppers contain the highest concentrations of vitamin C and vitamin A, as well as beta-carotene, so while green, orange or yellow peppers are good options, red peppers are best.
However, one exception is that you should never feed your dog hot peppers. Dogs are not used to eating spicy foods, as many people are, which means that chili peppers will cause problems with their digestive system, such as severe diarrhea. While these reactions are often remedied with a night's rest, they could lead to an unwanted trip to the veterinarian if enough chili pepper is ingested.
How many bell peppers should I feed my dog?
As with any new food, the gradual, moderate introduction is essential to see how your dog reacts. Some dogs will appreciate the added peppers to their daily diet, while others will not tolerate them as well.
Always make sure you completely remove all the seeds, stems, and inner core that may be more difficult to digest.
As a general rule, dogs should consume no more than 10% of their daily calories from foods other than their nutritionally balanced dog food. Larger amounts than these can lead to an imbalance of vitamins and minerals.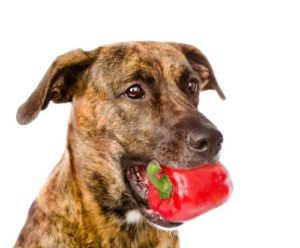 The outer part, meaning the skin of the peppers, may be difficult to chew and/or digest for your dog when the pepper is raw. However, you can give the pepper a boil to soften the skin.
Never put salt, spices, or garlic on the peppers, and never use peppers that have been cooked or mixed with onions. So those frozen vegetable bags that contain frozen peppers and onions are not an option for a dog.
As I mentioned before, while humans are able to withstand hot peppers, most dogs can't cope with the spiciness. Their digestive tracts are not as used to hot pepper varieties like jalapeño or serrano as ours.
So, throwing a hot pepper at your dog won't necessarily be a fatal mistake, but it could cause stomach upset, which will lead to indigestion and diarrhea. As with any new snack, always consult with your veterinarian before introducing anything new to your dog's diet.
Many owners give their dogs only a few slices of bell pepper a few times a week as a treat. In this way, the dog has a balanced diet that includes all the necessary vitamins and nutrients, but at the same time receives a delicious, healthy snack to enjoy in moderate amounts.
Final words!
In conclusion, dogs can eat bell peppers without any problems, as long as they are part of a healthy and well-balanced canine diet.
Not only peppers are very safe to eat by dogs, but they are actually highly nutritious vegetables with several potential health benefits and reduced risk. The main beneficial qualities of bell peppers are the ability to strengthen the immune system in dogs, promote eye and digestive health, and help fight certain diseases and cancers.