Are you looking for a less energetic, less agitated, and overall quieter dog? Well, you're surely not the only one. You are one of the many people who, for one reason or another, are looking for a dog breed known to be more relaxed and easy-going.
We can all agree that smaller breeds of dogs will usually make more noise and are fuller of energy than larger breeds. But is this the case with all dogs? Not necessarily. There are a few small dog breeds that are by nature a lot calmer than people believe.
If you're looking for a chill dog that can be kept in an apartment building, then the list below will give you 10 ideas of small dog breeds that will have a quieter way of life.
You might also like my articles on the smallest dog breeds in the world, teacup dog breeds for apartments, or teacup fluffy dog breeds.
The French Bulldog
A French Bulldog will usually be perfect for people that live in an apartment. One thing that your neighbors will surely appreciate is the fact that this dog won't bark all that much. They will usually like to hang out with their owner and have a really sweet nature in general.
The English Toy Spaniel
The English Toy Spaniel is great for someone living in a smaller house, being affectionate, and loyal, but also gentle and quiet. They will like to always stick around their owner and cuddle and will have a really hard time staying alone for long periods of time.
The Pug
Pugs are among those breeds that don't need a lot of work. They also have a very distinctive look and a playful, although not very active nature. They would prefer to lie next to you for hours straight instead of doing any type of exercise or physical activity. They will get along not only with other pets but with kids as well.
The Maltese
The Maltese dogs will have no issues adapting to any other pets around the house, will get along with people and other dogs, and are generally very easy to keep around you. They will get all of the needed exercise from a short daily walk.
Cavalier King Charles Spaniel
Although it is a slightly larger breed of toy dog, it is nonetheless loyal and very sweet. The Cavalier Kings Charles Spaniel Can make a great choice for an indoor dog, that would easily spend hours and hours just sitting on the couch and relaxing.
The Bichon Frise

This dog breed is a great fit for homes that already house other pets because they usually have no problem adapting to any pet they come across. They won't need any more activity than a simple, short daily walk. They will spend most of their day relaxing indoors.
The Pekingese
When it comes to the easy-going nature of a Pekingese dog, it will have no issues spending time inside or outside. They like to cuddle next to their owners, but they love sleep just as much. The only downside of this dog is the fact that it doesn't really like strangers, which is why this particular breed is a lot better for people looking for a small and quiet dog that would still make for a good watchdog.
The Japanese Chin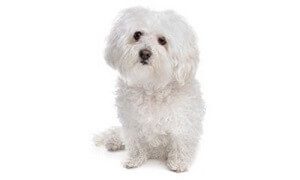 The Japanese Chin is almost like a cat. As long as they are close to their owner, they won't need anything else. These dogs will usually self-groom and can also be used as therapy dogs with their relaxing personality.
Shiba Inu
Shiba Inu is another breed of dog that is really easy to care for. They look like foxes and are pretty independent in nature. They won't need a lot of exercise and will do just fine inside the house.
The Bolognese
This breed, apart from its delicious name, is really easy to love and has a very adorable personality. A fluffy Bolognese dog could be exactly what you need if you're not looking for the average loud small dog.